(Continued from Part 2)
"Lamb or no, we are due in Jerusalem for presentation," said Master Joseph yesterday. Neither little Jesus nor Mary have been allowed outside in His first forty days. Before we bid our hosts farewell, Joseph takes me on a quest for a pair of white doves, of whom I am soon given charge. Threads tied around their legs secure them to my rope: wherever I go, so will they. Both are young and well-behaved, but I find the jagged bouncing of their heads tiresome. Watching makes me forget whatever else is happening nearby. Even if I look away, the corner of my eye will lead me back to the two dancing necks. Oh! 
Jesus fell asleep to their coos. Having commanded order from the pen, I try to remain as still as the blue of the sky. The next morning, Mary finishes packing while the birds (having been fed breadcrumbs, manure worms, and bits of fallen fruit) drink water from the palm of Joseph's hand. I was promised a walk shorter than our last and indeed, in one afternoon, we come into the capital—which smells of nothing good. 
Thieves! It seems I was right. My doves have both disappeared. Just as well, for they impeded my duties, but Joseph took them into the temple and returned alone, without explanation to what had happened.
Having spent nearly half as long here as in Bethlehem, and with all rituals and laws now accomplished, Mary fills baskets for another trip. "Soon, we will be back in Nazareth," Joseph tells me while scratching my neck, "back home." Home! My excitement, if dampened by the prospect of the walk itself, is such that I failed to notice the hoof knife in his hand. Alas, he too keeps good track of trimmings.
●
At the start of my jenny years, by which time Jesus had so grown that He could call my name and run up toward me, something unusual happened. He and Mary played with the wooden doll Joseph had carved Him when a bright star settled in the sky above our roof. While we observed it, a procession of travelers on horses and camels appeared from the east. Three Persian onagers accompanied them; they switched their tails in expectation of the food they knew was coming. Their coats, which gleamed in the starlight, were split into two colors: linen at the top, pure white at the bottom; it looked as though their noses, legs, and bellies were dipped in fresh cream. Woven baskets of food hung from their flanks alongside wineskins, and each one carried on his back an ornate treasure chest. 
The men in colored garments came in and, having removed their sandals, fell to Jesus's feet in worship. He had by then taken to pulling my tail, paying our guests no attention. The chests, which were then gifted to Jesus, contained three types of spicy-smelling rocks: one shiny yellow, another clear orange, and the last a dark reddish-brown. (All seemed unlikely to interest Him.) 
Our visitors had long selected a path home when, in the middle of the night, Joseph shook everyone awake in panic. Having urged Mary to her feet, he carried some of the shiny rocks outside and returned with the merchant's mule and cart instead, which he and Mary filled. "We must travel far and fast, Ahton," he said and leaned to kiss my forehead. "To Egypt. You, my pretty, will stay here with Mary's parents. Look after each other until we return." 
In a fortnight I learned from traveling sparrows what fate may thus have been spared us. Not one young son remained in all Judea, for all had either disappeared or fallen in a puddle of blood. 
●●●
Twelve hundred days have since passed. Each afternoon, when I am brought out to graze, I cast my eyes far to the south, wondering when they will return. There is nothing to be seen. Not yet. Will they remember me? I swing my head and roll onto my back. Mary's mother sits nearby, humming as she sews the edge of a torn shawl.
Once I have had enough of grass, I walk toward the almond tree. (There is still time and yet more room in my stomach.) While I pull leaves from its branches, I hear a rumble in the distance. I turn to look. Mary's mother tosses her sewing. Could it be?
Before I can decide, a shape is lowered from a mule; "Ahton!" a little voice screams out. I let out a squeal and feel a warm trickle travel down my legs, then realize I am not rooted into place. I start, kicking my rear up as I go. How tall little Jesus has grown! 
As I welcome them, I vow that I will protect Him as well as I can, for as long as I live, then think of the day I might birth a foal of my own, who will be His to ride and His only.
The End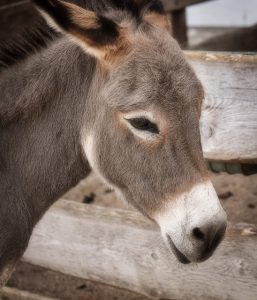 Further Reading:
Art illustration by Karen Koh